Thanks to my good buddy Brian I am now the proud owner of a 71 Celica. I recently fell in love with these cars when a friend named Vince drove his Celica out to meet me and my son to look at his 260Z with a 302 Ford small block. We bought the 260Z on the spot for my son's first car, but I couldn't stop thinking about his Celica and beautiful the lines were. I'd never seen one before, to say the least I was like Gollem and his precious ring, I had to have one, really it was bad! After long discussion with Brian (and it just so happens he is one of the coolest guys I have ever met) we made a deal for the 71 Celica! (Thanks Brian!!) It is a very clean car to start a project from, and when I say project I mean integrating a tube chassis and a complete drive train swap. It will have alot of Ford parts including a Supercharged 427 Windsor based small block and a 6 speed TKO Tremach tranny. Not sure if I wanna go with a late model Cobra independent rear end or a shortened solid axle 9 inch. I'm not sure what I will do with the front end as far as steering and suspension, but it will probably end up being a homespun mustang 2 style rack and pinion along with coil over shocks and tubular A-arms. I'll keep ya posted as this build progresses. I know it sounds daunting to some of you and like an abomination to the purists. Well for my shop this is nothing, though I have never done this with a Celica, I have completed this task on other vehicles more times then I can remember. As far as the purists well different strokes for different folks is what makes the world go round right? Thanks for reading and I'm very happy to be here. Thank you Mike for setting me up. Now let the fun and games begin!
---
Posts: 1364
Joined: February 18th, 2008, 8:50 pm
Location: Sacramento, CA
Welcome man. Post some pictures!!!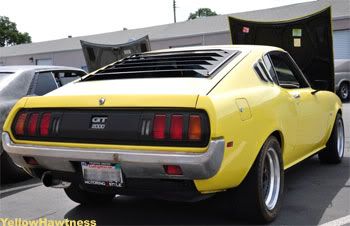 ---
Sounds like a nice project. These cars seem like the proportions would work well for swapping over components from a fox body. Curious what you will plan to do for chassis stiffening. I've thought about trying to adapt full length subframe connectors for a mustang to fit
---